FALSTAFF – VINO NOBILE TROPHY AWARDS
A great news in a so important period like Vinitaly, will starts tomorrow with 53rd edition.
A caotic but passionate period must be well followed with cure.
Past days has been conducted one of the most important event by Falstaff magazine: The Vino Nobile Trophy.
A contest where the most important wineries of Montepulciano race for the scores with their Vino Nobile and Rosso di Montepulciano bottles.
Falstaff is the lifiestyle magazine of the Middle Europe and it's magazine is out in Germany, Austria and Switzerland; is the most important magazine writes about wine and food.
Next week will be out the issue of March where will be present The Vino Nobile Trophy and like first-ever preview we will write about scores obtained by our wines. Scores obtained by all wine of Montepulciano have a range from 86 to 94, this means the great quality of all wines!
BARADIERO – Vino Nobile di Montepulciano D.O.C.G. 2014 – 89/100
A vintage with a lot of doubts for all Tuscan wines but continues to give a lot of pleasures.
FONTEBRASCA – Rosso di Montepulciano D.O.C. 2017 – 90/10
An elegant wine has been awarded with highest score for Rosso di Montepulciano.
SAN CLAUDIO II – Vino Nobile di Montepulciano D.O.C.G. 2015 – 91/100
A great vintage continues to evolve in bottle.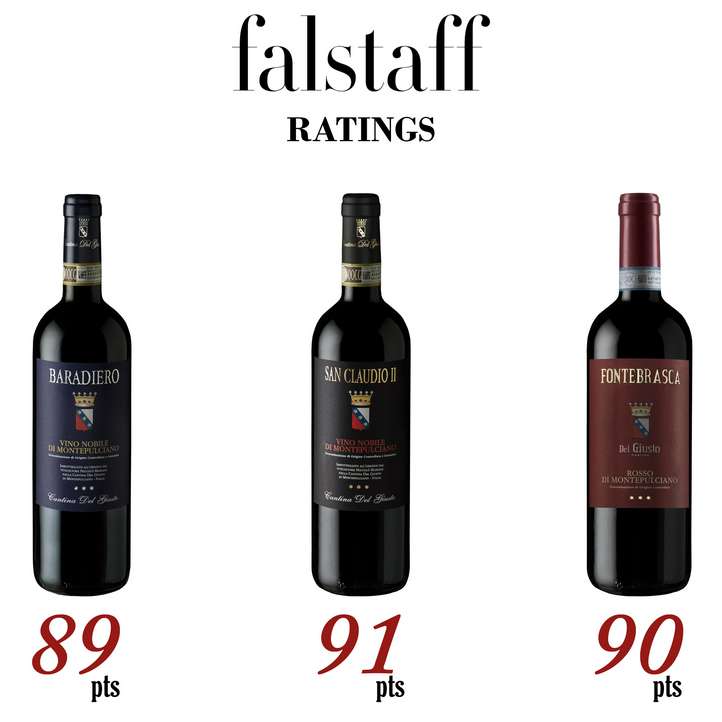 Alla Salute!